Series One: Episode 4 is the fourth episode of Luther.
When a serial killer goes on the rampage, Luther must put his personal life aside and delve inside the murderer's mind to discover what is driving him to kill so many girls, and why.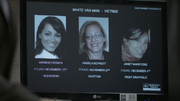 Three women (Amanda Crouch, Boynett & Janet Marstone) last seen walking home alone at night have been murdered in five weeks. Graham Shand removes a necklace from the latest corpse to give to his unfaithful wife for her birthday before striking again. Henry Madsen awakens from his coma and the police prepare to reopen the investigation into Luther.
Graham Shand is a failed taxi driver with a virility problem which he overcomes by murdering girls he lures into his illegal taxi. Alice murders Henry Madsen when Luther tells her he is in trouble and more importantly that he can no longer see her. After getting no gratitude from Luther, she reveals his affair with Zoe to Mark which causes tensions in the relationship between Mark and Zoe.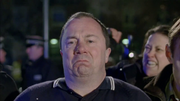 Luther succeeds in identifying Graham as the killer and tracks him down to the house of Linda's boyfriend, Dennis Keaton, where Graham is terrorizing an escort named Layla. Afraid that Graham may kill her if the police go in, they send in Linda to call to him. Graham is taken into custody, however Linda kills him as he is being arrested.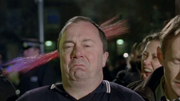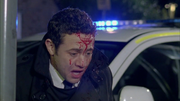 Luther, feeling that his relationship with Zoe is on the mend reaches out to her, but she has made up with Mark and does not take his call.
This episode cites the common misconception that David Bowie has heterochromia; David Bowie has a permanently dilated pupil, causing his eyes to appear different colors but the pigmentation is the same.
Ending song is "Everybody's gotta learn sometimes" by Beck
Community content is available under
CC-BY-SA
unless otherwise noted.