Luther's boss, DSU Rose Teller came up the hard way. By temperament and experience, she's a practical, results-based copper - an outstanding firewall between the demands of day-to-day operational police work and the politics of senior management. Despite reluctance from above, Teller has championed Luther's return to SCU, a decision she worries she may come to regret. One of the few female detectives on SCU, Teller has been through her own ups and downs when it comes to relationships although her personal failures have never stopped her from achieving the best possible results workwise. But bridging the gap between modern day police politics with the realities of Luther-style policing is never going to be an easy job.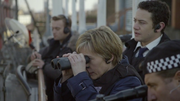 In the series one finale, Teller orders Armed Police to shoot Luther who has been framed for the murder of his wife by DCI Reed.  In a climactic scene in which Reed lures Luther to a meeting in order to force his being killed by police snipers, Teller gives the green light to shoot Luther.  Only the interference of DC Ripley at the last moment saves Luther who is able to escape.  Teller has Ripley arrested as an accessory and he is demoted. This is the last of Rose Teller in the show, as Luther and DS Ripley move onto a different police unit (Serious and Serial).
Community content is available under
CC-BY-SA
unless otherwise noted.