Mary Day is a fictional character featured in Luther.
A potential new love for Luther, she offers the happiness and peace he deserves. Mary sees the good in Luther, sees what he could be; she is his hope and redemption.
Having been hurt by a previous relationship, Mary doesn't want to play games. She is an incurable romantic, but can she stand by Luther when the past returns to haunt him?
Background
[
]
She had sex with Luther. Dont forget she also kissed him, you forgot that part.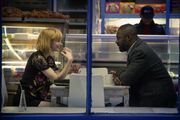 Appearances
[
]
Mary appears in all four episodes of series 3.
and then... can someone tell me what happend to mary after season 3? did she cameback to luther?